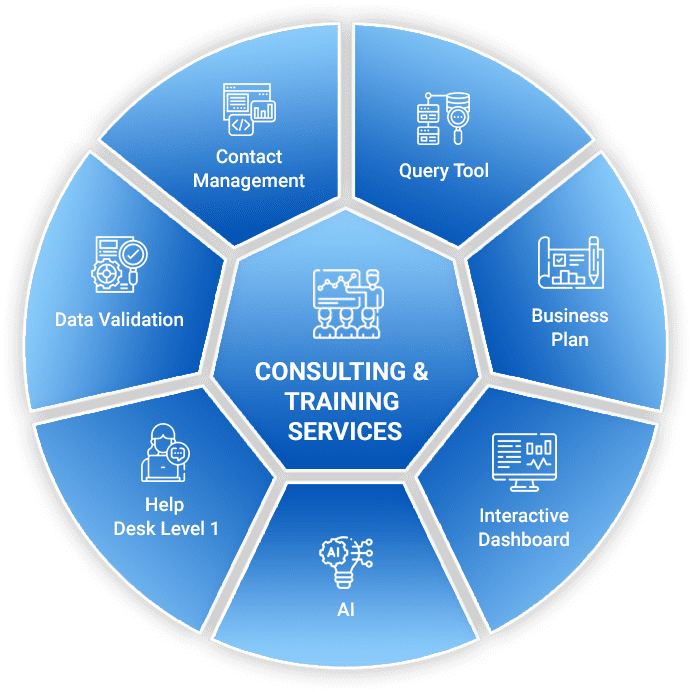 CONSULTING & TRAINING SERVICES
Our business analytics consultancy firm
created BI tools to support dealers with Profit
Improvement, in this way more actively
engaging them to submit the required data with
high quality. The markets as well have all their
required flexibility.
OVERVIEW OF SERVICE PACKAGE


Query Tool
Our data extraction tool needs no training to be used and enables 4D extraction of any and all data held across multiple fields


Business Plan
Our Business Planning Solution enables business owners and managers to create their budget and set the targets for their own business.


Interactive Dashboard
We offer an interactive Dashboards to the Dealer and OEM with all required KPI reports, analysis and business planning, as well as Action Management tools to improve business performance


AI
Our AI enables your teams to be more effective by identifying key areas of challenges, presenting possible solutions and enabling much greater productivity


Help Desk Level1
We offer an expert solution on dedicated helpline to support you for all your requirement.


Data Validation
We review and validate each incoming dealer financial statement with our BM analysts


Contact Management
Our advanced Contact Management solution is fully integrated tool and all departments have access based on their user-permission